Dear Miriam, Thank you for an enlightening session. Unlike two other astrologers, both well-known, who predicted outcomes that never materialized, you assisted me in clarifying my deepest truths and, therefore, a positive future with which I'm already aligned---thus allowing me to flow with life rather than struggle against it. That you provide a thoroughly confidential and judgment-free environment enhances one's ability to begin to see "the stars" as guides rather than obstacles. I wish you well in your good work.
- (a client who asked to remain anonymous)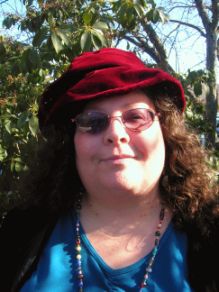 I'm here to help you move out of problem mode and get excited about your life again. Astrology and magic taught me who I am and how to live in rapport with the natural rhythms of the Universe. Coaching helped me climb out of the pit of depression and learn to live my life as a joyous experiment. Now I'm all about passing those gifts on. Are you ready to be gifted?
I believe that anyone can find -- and live by -- that spark of joy and passion inside... even if you are ill, or broke, or overwhelmed with responsibilities. Furthermore, that passion is your surest pointer to what the world most urgently needs from you, as well as what you need from the world. There is no one like you, and the world is waiting for you to discover and manifest that special piece that only you can contribute, no matter what you have done -- or not done -- in the past. My mission is to support and empower you in bringing to birth your unique vision.
I have guided hundreds of individuals through transitions, revelations and hard times in all areas of life: career, relationships, family, health, spirituality, and many others. My workshops, readings, and coaching are designed to give you the tools you need to bring your dream to light and nurture it to realization.
My official credentials: I've been studying and practicing astrology since 1974. I hold the Certificate of Astrological Studies from the Astrology Institute of Lexington, MA, and the Level II certificate from the National Council for Geocosmic Research (NCGR), of which I am a member. I have taught workshops and classes for EarthSpirit, Solstice Sun, Boston NCGR, My Holistic Network and others, and have written astrology columns for New Moon and EarthSpirit. For three years, I published the monthly Night Vision Astrology newsletter. Currently I offer teleclasses, life transition workgroups, business and personal consultations and coaching. I also offer Confidence Caravan and How Not To Stress programs, classes in energy work, and prosperity and money management coaching.
In July 2010 I was featured in an article on women and networking in Applaud Women online magazine. You can read that profile in the Summer 2010 issue (go to page 95).